1st Great Seal Design offered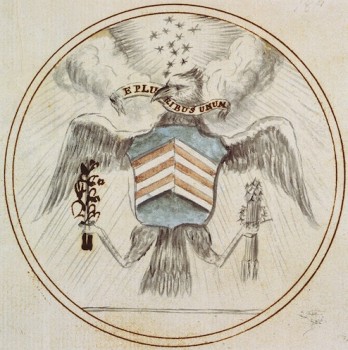 Thompson's was Accredited for this Drawing of the Great Seal
Gary Gianotti has found several of Robert Scot's Maker Marks. 
Robert Silverstein's current theory states that we see several Jacobite marks in Tribute to the Scottish Royal House like the "5" in the clouds. The Chevron Design is representation of Scot's lineage to the Lord Flemming Royal Norman Chevron Coat of Arms. I believe that they masked over other Robert Scot's marks symbol to represent Jacobite heraldry/history. This could be because why Thompson burned his personal notes, he knew the true origins. 
When your page opens, please use the + – arrows to set your page size.