The Study & Origins
of the
First U.S. Map
By
Robert Silverstein
A New and Correct Map of the United States
By
Abel Buell, 1783
In my opinion, this is the most important historical map in the United States. This is the New and Correct Map of the United States and North America that was created by Abel Buell in 1783, and then copyrighted and published in the United States six months after the Treaty of Paris signing on Sept 3, 1783. Abel Buell's map was is said to be drawn from the latest observations, and was sanctioned by the best authorities that were in agreement to the peace treaty of 1783.      
Abel Buell's Cartouche Features New American Symbolism With Royal Scottish Roots.
These cartouches on Maps were important because it was a way of promoting the new country's American symbolism into society. First, it offered visual proof that our New Nation was real, and formally claimed it's own sovereign right to the world. Second, these cartouches linked the new country's symbols, and national heroes into the iconology of mainstream society. Using the likeness of George Washington, The Lady Liberty, The American Eagle, The American Flag, Scales of Justice, and the Liberty Cap & Pole quickly became a "model" in 1784 for transferring these new iconic depictions onto everyday patriotic objects.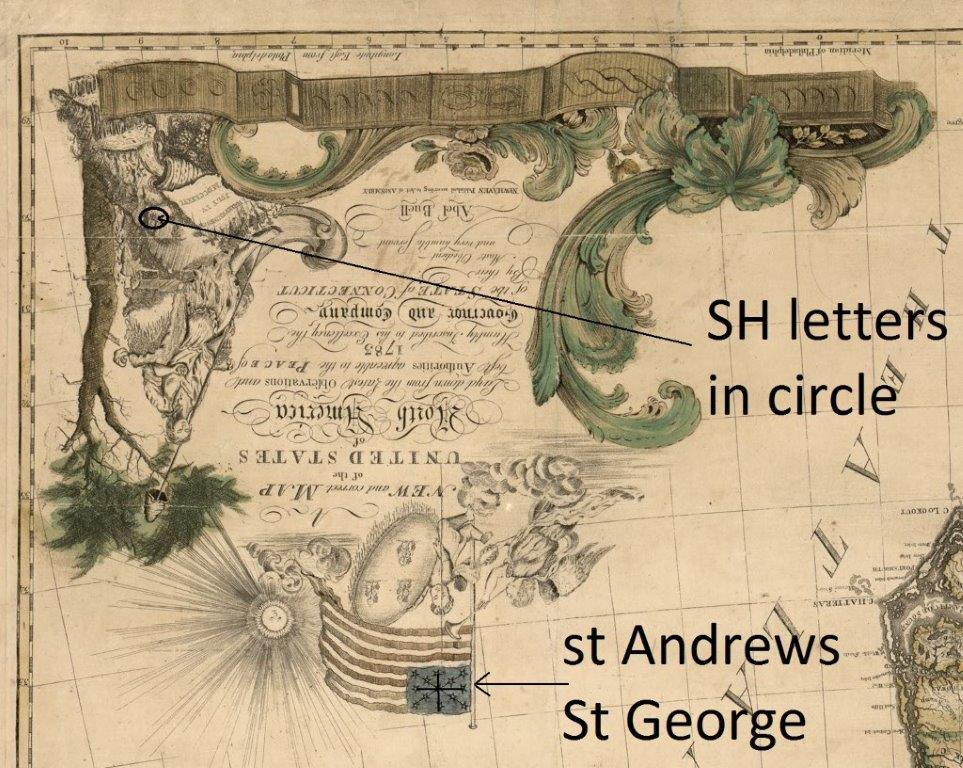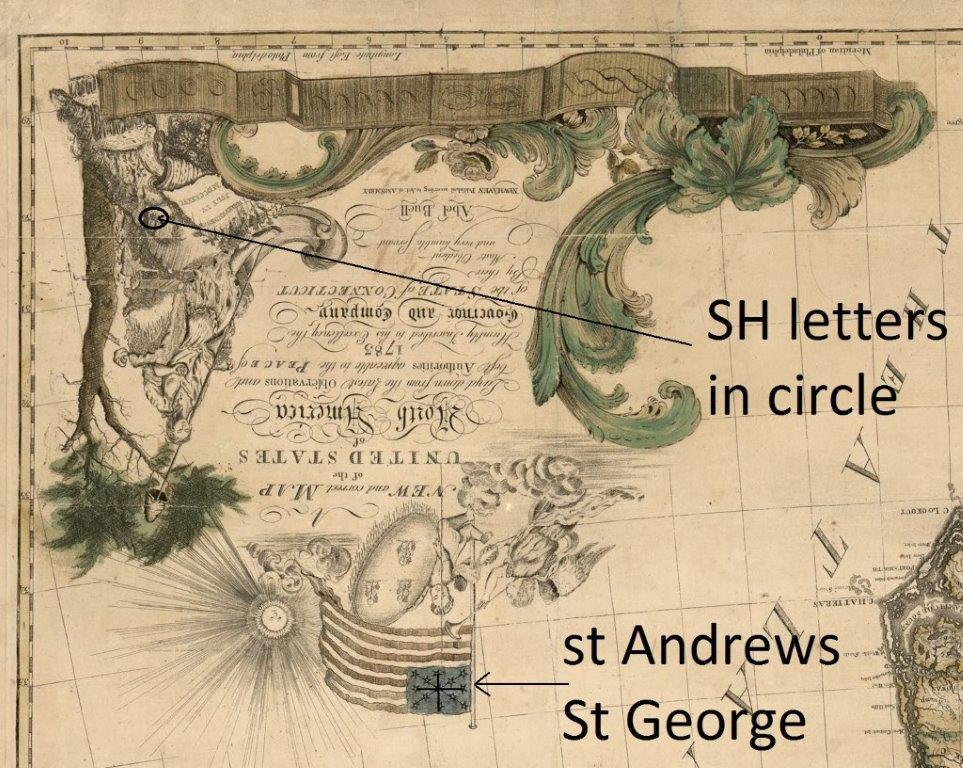 Saint Andrews & Saint George's Cross in the American Flags Star Field
As with George Washington inaugural buttons, this 1783 map of the United States is another piece of evidence which links Scottish Royal heraldry to the people (Jacobites) operating in the American business infrastructure. The depicted evidence clearly shows us that without a reasonable doubt there was a strong undercurrent of Scottish influence by these craftsman in their production of official or commercial objects. One can only conclude from a long laundry list of celebratory items such as, paintings, wood objects, painted & etched glasses, milk jugs, knitted items like scarves, household linens, fashionable wearable items, to GW buttons that there is a subcutaneous layer of Scottish symbolism linked directly to the Ancient Scottish Royal families. 
Pictorial Depiction of Secondary Maker Mark & Union Flag Highlights By Dale Hawley.
1790 to 1810 English Lead Glazed Earthenware