I am happy to introduce this Lost George Washington Inaugural Button, and Proudly name this find:
The Federal Eagle
W/ Regnal Jewels of Scotland Border Indentees 
GWI 24-A THE FEDERAL EAGLE WITH SCOTTISH JEWEL LEGEND INDENTEES: The metal planchet is brass, and has a gilt finish. The size is 34.74mm, and has a R-7 rarity rating. This is a one-piece button with a soldered on loop shank for attachment. The button's pattern depicts a U.S. Federal Wing Spread Eagle facing right. The Eagle is proudly splaying it's wings under the Star of Bethlehem. This gives the button it's Christian religious heralding authority as a nation under God. As it gives Prince Edward Stuart his Devine Right of Kings to rule. The Federal Spread Wing Eagle was borrowed from the Great Seal of the United which is the chosen symbol to represent the United States in an official capacity on all official congressionally approved U.S. related documents. Historically it is the Zoroastrian Phoenix which was symbolized by Scottish Gentry within their social clubs. Also, for the Scottish-Rite Jacobites it is seen as a Phoenix and symbolizes the re-birth of their New Republic into the Eagle with their doctrine of separation of church and state. For the Patriots and colonists the Eagle represents the Majestic Strength of America's readiness for the challenges it will face as a new nation.Clutched tightly in the Eagle's left talon is a small Bundle of Three Arrows which represent our country's readiness for war. This also represents the Executive, Legislative, and Judicial Branches of the U.S. federal government. For Scottish-Rite Jacobites it represents the Royal Company of Archers who were the Lifeguards of the King. Also, a representation of the King of Scotland, England, and Ireland. Clutched in the Eagle's right talon is a short stem Olive Branch with Five Petals. This is the ancient Roman symbol for the gesture of Peace and Goodwill. But it would not be the proper context for a Jacobite button that looks at it as part of one of their earlier uprising symbols of 1745/6. This is all part of Prince Edward Stuart's culture for symbolism. As all 1789, GW & New Nation Tribute buttons the Eagle's head is turned wisely toward the olive branch. I believe this sentiment for peace is a shared allusion with both Americans and Scottish Rite Jacobites who struggled through 4 uprisings since 1699, for their New Republic (Political & Religious Freedom). Blazoned across the Eagle's chest is a Spade Shape Federal Shield with 33 Diamond Shape Perimeter Indentees. This would only have a Scottish-Rite representation to it's masonic degrees of knowledge. Freemasonry was started by the Scottish kings and continued as the main vehicle through the Jacobite movement into the War for American independence.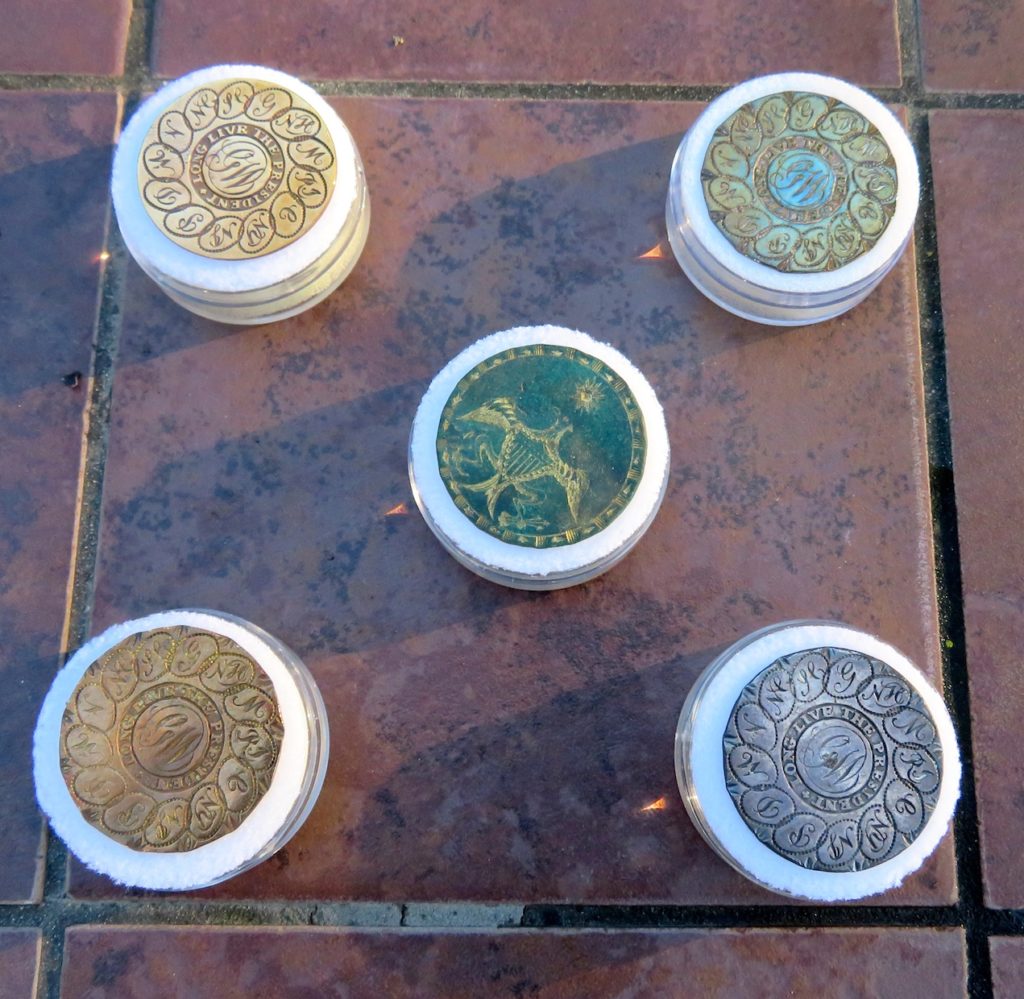 My Personal thoughts:
      I believe the primary designer of this inaugural button variation was Philadelphia Artisan John Vallance (1770-1823). There was some credible dated evidence presented by Gary gianotti as well as maker marks that this was his craftsmanship by crossmatching other GWI designs by him. He believes the button's partially completed template steel die was worked on during his long boat trip from America to England. Only the Zoroastrian Phoenix would have appealed to Jacobite sympathizers familiar with this history (Practicing or not). We say partially completed because the button does have the maker marks of Master Artisan Robert Scot and two other Philadelphia Artisans James Trenchard, and Samuel Allardice, but knowing how are artisans worked together the steel die hub could have been worked on, put to the side, and then finished by Vallance on his journey across the Atlantic to England. This button's design is unique for several reasons. This Scottish design was most likely geared for Jacobite supporters in English social clubs. As of date, it is only known George Washington inaugural button found in England. We know the Jacobite movement was established all through the 1760's and went right through to the American Revolution. It is still my conclusion that most GWI buttons were made in either Canongate Lodge in Scotland, or Birmingham England as a specialty order for Masonic lodges in the U.S.
    This button unlike other GWI buttons displays Scottish Royal Culture throughout it's design. Usually the Scottish Royal Culture that are incorporated within GWI variations have multiple overlaying allusions which were masked on purpose. This button should be viewed as a triumphant tribute to the Jacobite movement in England. Was this variant made for Englishmen who were in support of the rebels (Jacobites) during the American Revolution. There is a lot of evidence supporting this theory, since newspapers and publications were shared across the Atlantic in major cities.
      GWI 24-A is the best George Washington inaugural button ever created that houses so many multi-layered allusions into the Scottish Royal culture's ancient history. The stipples and stripes should be taken together with the eagle as a whole to represent America will go into the future with it's own virtue with the Enlightened Ideals started in Scotlands Universities and put forth into the Grand Architects Design. The truth about the 7 horizontal stipples (dots) across the top of the shield represent 2 distinct meanings. One of religion with the mask of the European nations which the original British colonies in America was people'd by ( England, Scotland, Ireland, France, Germany, Canada, and Holland). The 13 vertical stripes in the lower portion of the shield is another mask of allusion with 2 meanings. First, it represents the 13 colonies that have become unified as one (E. Pluribus Unum). Under the mask it would represent to people of the era in England, Scotland, and Ireland the King of England and his 12 Sir Knights of the Most Noble Order of the Garter.  Circling around the inner perimeter is an incuse ring of very detailed 3 short lines. Most notably this would give reference to Prince Edward Stuart being the 3rd King of England. Within the 3 short lines is the Scottish Regnal Jewels of Scotland. This is in direct reference and messaging of the Bonnie Prince Charlie taking his rightful place as heir to America. Also, there is a 5 petal laurel. Prince Edward Stuart was Crowned with an open Laurel Wreath in Holyroodhouse in 1745. this also could serve as a symbol of the 5 Petal White Rose he picked during the Hanoverian War and put into his cockade before battle. Prince Edward Stuart was born under the Bethlehem Star on December 31st 1720 which is depicted as the button's estoile. The coming of the future King from the Charles I and Charles II Resistance and Restitution Serpent Snake of Resistance. 
Rob's collector's notes:
     One theory on the Estoile's Deep Impression is that this could have possibly have been fitted for a jewel, such as a small Emerald signifying the colors of Scotland. Some kind of clear adhesive could have possibly been used. Dale doesn't believe it was cut-in  for a Jewel. He believes the deep impression, and cross hatch was just added for a glimmering-bling effect to play off a room's candle or possibly the sun's light. Either of these two theory is acceptable in my opinion. I do agree that these elaborate Gilt embellished jewelers cuts were done to give GWI 24-A that extra Special Sparkle in the Sunlight; and also offer the wearer an extravagant fashionable political statement to his wardrobe in attendance of a political function or social grand ball. 
   *** With this new addition, there will be three known GW buttons that are made to Sparkle in the Light, GWI-7B, GWI-21, and the newest re-discovered member to the GW! button family GWI 24-A! All were hand chased and specially crafted by artisans with special intent.
     This is 1 of 2 known George Washington Inaugural Button to be Dug (in England) outside of the United States!
*
GWI 24-A THE FEDERAL EAGLE WITH SCOTTISH JEWEL LEGEND INDENTEES
Color: An Emerald Green With Gold Pattern Highlights.
Metal: Flat, 1-Piece, Hand Engraved Design, Gilt Brass.
Size: 34.75mm. Inaugural Size.
Rarity: R-7 (1 of 2 Known)
Variety Type: 20 Jewel Shape Legend Indentees, 20 Sets of 5 Etched Lines.
Present Condition: An Excavated Specimen, Strong Planchet Condition, An Exceptional Impression Remains.
Obverse Button Analysis: Along with the customs ordered  GWI 25, Isabela's War Eagle this button is the most important and rarest inaugural button to exist !
Reverse Button Analysis: This is a one-piece button with a soldered on loop shank. 
Library Records Has Limited Information GWI 24 A-1:
History:          Yes          Recorded Sales Price:         Yes
Current Button Owner and Location:        ~ New York ~
Dug around Hampton in Norfolk County England.
RJ Silverstein's Isabela Collection.~
The following makers marks found are again, consistant with all the marks found on all of the GW buttons studied. We find Trenchards letter "J" in the eye ball of the bird. Several makers marks "V" are found and one VERY unique aspect is that the birds leg joint bend is made to be a chevron "V" as seen on original surviving US Great Seal, the handful. Where this evidence found on this button is "Exceptionally Valuable" as hard evidence that Scot and his associates where behind the making of all of the Washington buttons and these rare eagle buttons. This button has three, clearly seen letter "A's" that would represent Samuel Allardice who's marks are found on the Great Seals. Sometimes his marks are clearly seen as "SA" for his name. Scot's "S" mark is found on an angle, often Scot's "S" marks are seen as a near number 8 in design. Based on the surviving proposed Great Seal design that has the Fire Pilar and the Jacobite symbolism. The Letter "S/8" can signify te exiled King, James Francis Edward Stuart VIII. Paintings and other engravings of the king by Scot's teacher, show these "S/8" symbols in his surviving works.
GWI 24-A THE FEDERAL EAGLE WITH SCOTTISH JEWEL LEGEND INDENTEES
Color: A Rich Green With Gold Pattern Highlights.
Metal: Flat, 1-Piece, Hand Engraved Design, Gilt Brass.
Size: 35mm. Inaugural Size.
Rarity: R-7 (2 of 2 Known)
Variety Type: 20 Jewel Shape Legend Indentees, 20 Sets of 5 Etched Lines.
Present Condition: A Dug Specimen, A Poor Planchet Condition, A Good Impression Remains.
Obverse Button Analysis: 
Reverse Button Analysis: This is a one-piece button with a soldered on loop shank.
Library Records Has Limited Information GWI 24 A-2:
History:        Yes           Recorded Sales Price:       Yes
Current Button Owner and Location: ~ No ~
Dug in Fareham, England.
Owned by Craig Slater until 2016.~
Note to owner: Do Not Try to Renovate this button. Especially, by anyone who contacts you. THIS WILL DEVALUE THE BUTTON FROM LEAVING IT IN ITS NATURAL STATE! YOU SHOULD VIEW THIS AS A GIFT BETWEEN SCOTTISH MASONIC BROTHERS TO CELEBRATE THEIR SUCCESS. I WOULD HAVE BOUGHT THIS FROM CRAIG, BUT I NEED OTHERS TO OWN THESE BUTTONS ALSO. HOPE YOU CHERISH THIS JACOBITE COMMEMORATIVE OF SUCCESS.